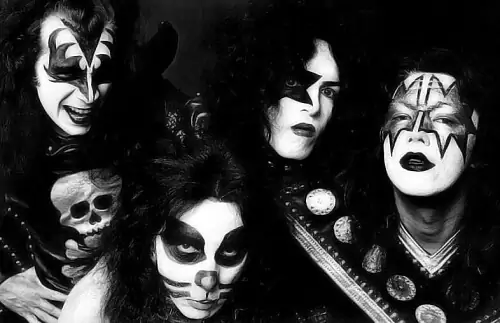 Welcome to the site, you've arrive to metalminos cause you want to download KISS Discography, bookmark the page for more content. This was a request for one of our visitors \m/.
DOWNLOAD KISS Discography 320kbps (1974 – 2017) Google Drive

About
"KISS is an American rock band formed in New York City in December 1972. Easily identifiable by the face painting and stage costumes that characterize its members, the band became famous in the mid- and late 1970s for their elaborate live performances, which featured fire breaths, blood spitting, smoking guitars and fireworks. Kiss has been awarded 24 gold albums to date and has sold over 85 million records to date.
The original lineup of Paul Stanley (vocals and rhythm guitar), Gene Simmons (vocals and bass), Ace Frehley (lead guitar and vocals), and Peter Criss (drums, percussion and vocals) is the most successful and identifiable. With their make-up and costumes, they assumed the personality of the comic book characters: The Devil (Simmons), Starchild (Stanley), Spaceman (Frehley) and Catman (Criss). The band explains that the fans were the ones who finally chose their make-up designs. Demon's" makeup reflected Gene's cynicism and dark elements, as well as his love of comics. Paul Stanley became the "Starchild" because of his tendency to be referred to as the "starry-eyed lover" and "hopeless romantic. Ace Frehley's "Spaceman" makeup was a reflection of his wanting to take a ride in a spaceship and supposedly being from another planet. Peter Criss' "Cat Man" makeup was in keeping with the belief that Peter had nine lives because of his rough childhood in Brooklyn. Due to creative differences, both Criss and Frehley were left out of the group in 1982. The band's commercial fortunes had also declined considerably at that time."
Download's Info
Country: United States
Genre(s): Hard Rock
Format: MP3
Bitrate: 320kbps
Size: 11.06 GB
File Compressor: RAR
Band's Info: KISS's FACEBOOK
KISS's RELEASES
Original Releases
Studio Albums
1974 – Kiss [1987 Polygram 824 146-2 M-1] Germany (35:15)
1974 – Hotter Than Hell [1987 Phonogram 832 421-2] Germany (33:11)
1975 – Dressed To Kill [1987 Polygram ‎832 419-2] Germany (29:56)
1976 – Destroyer [1987 Polygram ‎824 149-2 Y-1] Germany (34:06)
1976 – Rock And Roll Over [1987 Polygram 824 150-2 M-1] Germany (32:38)
1977 – Love Gun [1987 Polygram 824 151-2 M-1] USA (32:11)
1979 – Dynasty [1987 Phonogram 832 418-2] Germany (38:36)
1980 – Unmasked [1984 Phonogram 800 041-2] Germany (39:22)
1981 – Music From The Elder [1987 Phonogram 512 783-2] Germany (42:35)
1982 – Creatures Of The Night [1987 Mercury 824 154-2 M-1] USA (38:52)
1983 – Lick It Up [1983 Mercury ‎814 297-2 M-1] USA (41:30)
1984 – Animalize [1984 Mercury 822 495-2 M-1] USA (36:10)
1985 – Asylum [1985 Mercury ‎826 099-2 M-1] USA (38:55)
1987 – Crazy Nights [1987 Mercury 832 626-2] Germany (42:59)
1989 – Hot In The Shade [1989 Mercury 838 913-2] USA (58:51)
1992 – Revenge [1992 Mercury 512 405-2] Germany (49:04)
1997 – Carnival Of Souls The Final Sessions [1997 Mercury 314 536 323-2] USA (60:19)
1998 – Psycho Circus [1999 Mercury 538 938-2] Germany (44:30+39:46)
2009 – Sonic Boom [2009 Roadrunner RR 7805-5] EU (43:18+53:40)
2012 – Monster [2012 Universal UICY-15180] Japan (51:53)
KISS Singles, EP's, Promos
1979 – I Was Made For Lovin' You [1989 Phonogram Casablanca 874 803-2] Germany (12:03)
1979 – I Was Made For Lovin' You [1993 Mercury 862 607-2] Germany (16:22)
1979 – I Was Made For Lovin' You [1997 Mercury 574 485-2] Germany (11:27)
1987 – Reason To Live [1987 Polygram Vertigo KISCD 8] Germany (15:40)
1989 – Forever [1989 Vertigo 875 173-2] Germany (15:37)
1989 – Forever [1990 Phonogram Vertigo KISCD 11] UK (15:11)
1989 – Hide Your Heart [1989 Phonogram Vertigo KISCD 10] UK (11:37)
1990 – Rise To It [1990 Mercury CDP 242] USA (7:30)
1991 – God Gave Rock & Roll To You II [1991 EastWest Interscope 7567-96275-2LO] Germany (11:29)
1992 – Domino [1992 Mercury CDP 681] USA (7:55)
1992 – Domino [1992 Mercury CDP 761] USA (3:52)
1992 – Every Time I Look At You [1992 Mercury 864 403-2] Germany (12:39)
1992 – I Just Wanna [1992 Mercury CDP 707] USA (8:15)
1992 – Unholy [1992 Mercury 866 891-2] Germany (17:31)
1992 – Unholy [1992 Mercury CDP 666] USA (21:55)
1995 – Limited Edition Australian Tour 1995 EP [1995 Mercury] (22:29)
1998 – Psycho Circus [1998 Mercury 566 465-2] Australasia (21:48)
1998 – We Are One [1998 Mercury 566 703-2] Germany (8:19)
2012 – Hell Or Hallelujah [2012 Simstan Music] USA (8:08)
2015 – Momoiro Clover Z vs Kiss – Samurai Son [2015 King KIZCM-1579] Japan (27:07)
Compilations
1978 – Double Platinum [1987 Phonogram 832 412-2] Germany (69:18)
1982 – Killers [1989 Mercury PPD-8011] Japan (53:12)
1988 – Chikara [1988 Polystar P3OR-20008] Japan (60:01)
1988 – Smashes, Thrashes & Hits [1988 Mercury 836 427-2] USA (53:27)
1988 – Smashes, Thrashes & Hits [1988 Vertigo 836 772-2] EU (57:47)
1996 – Greatest Kiss [1996 Mercury 534 299-2] Australia (76:15)
1996 – Greatest Kiss [1996 Mercury 534 299-2] USA (56:06)
1997 – Greatest Hits [1997 Mercury 536 159-2] UK (75:38)
2002 – The Very Best Of Kiss [2002 Mercury 063 122-2] USA (75:18)
2005 – Gold [2005 Mercury B0003077-02] USA (77:16+74:35)
2008 – Ikons [2008 Mercury B0011898-02] USA (50:37+49:46+55:11+51:42)
2008 – Playlist + Plus [2008 Universal 06025 17491601] Germany (40:46+48:51+49:13)
2012 – The Casablanca Singles 1974-1982 (29CD)
2014 – 40 Years – Decades Of Decibels [2014 Mercury UICY-15297-8] Japan (76:34+80:07)
2015 – 40 Years – Decades Of Decibels [2015 Mercury UICY-15361] Japan (75:55)
2017 – Kissworld – The Best Of Kiss [2017 Mercury 5377918] UK (75:36)
Live Albums
1975 – Alive! [1987 Phonogram 832 416-2] Germany (35:26+42:36)
1977 – Alive II [1987 Polygram 832 417-2] Germany (35:57+35:50)
1993 – Alive III [1993 Mercury 514 936-2] USA (73:03)
1996 – MTV Unplugged [2008 Universal UICY-91060] Japan (60:45)
1996 – You Wanted The Best, You Got The Best!! [1996 Mercury PHCR-1450] Japan (63:44)
2003 – Symphony Alive IV [2003 Sanctuary 06076-84658-2] USA (71:49)
2003 – Symphony Alive IV [2003 Sanctuary SANDD195] UK (46:51+49:25)
2006 – Alive – The Millenium Concert [2006 Mercury B0007586-02] USA (76:55)
2016 – Kiss Rocks Vegas [2016 Eagle Vision EV307609] USA (79:34)
KISS Remastered Editions
Studio Albums
1974 – Kiss [2006 Universal UICY-93090] Japan (35:23)
1974 – Hotter Than Hell [2006 Universal UICY-93091] Japan (33:18)
1975 – Dressed To Kill [2006 Universal UICY-93092] Japan (30:15)
1976 – Destroyer [2006 Universal UICY-93095] Japan (34:30)
1976 – Destroyer – Resurrected [2012 Universal UICY-75349] Japan (37:47)
1976 – Rock And Roll Over [2006 Universal UICY-93096] Japan (33:37)
1977 – Love Gun [2014 Mercury 06025 379 972-6 (8)] Germany (32:47+46:59)
1979 – Dynasty [1997 Mercury ‎314 532 388-2] USA (39:06)
1980 – Unmasked [1997 Mercury 532 389-2] Germany (40:10)
1981 – Music From The Elder [1997 Mercury 532 390-2] Germany (42:53)
1982 – Creatures Of The Night [1997 Mercury 532 391-2] Germany (38:55)
1983 – Lick It Up [1998 Mercury 314 558 858-2] USA (41:34)
1984 – Animalize [1998 Mercury 314 558 859-2] USA (36:06)
1985 – Asylum [1998 Mercury ‎314 558 860-2] USA (38:56)
1987 – Crazy Nights [1998 Mercury 558 861-2] Mercury (43:00)
Compilations
1978 – Double Platinum [2006 Mercury UICY-93100] Japan (69:47)
2001 – Kiss Box Set [2001 Mercury 314 586 561-2] USA (78:51+70:10+73:56+64:06+77:52)
Live Albums
1975 – Alive! [2006 Universal UICY-93093 4] Japan (35:43+42:44)
1977 – Alive II [2006 Universal UICY- 93098 9] Japan (35:57+35:51)
[embedyt]https://www.youtube.com/watch?v=EFMD7Usflbg[/embedyt]

DOWNLOAD HERE:
Hey, dont leave yet, you Might Like Also: Journey – Live in Japan 2017