DOWNLOAD Pain – We Come In Peace (2012) BDRIP 720p Mega Google Drive
Welcome to metalminos, i hope you enjoy Pain – We Come In Peace browse the site for more awesome metal downloads \m/
ABOUT
The Industrial Metal Live experience on DVD.
Multi-talent Peter Tägtgren is a restless fellow – known as producer of famous combos such as DIMMU BORGIR, CHILDREN OF BODOM or SABATON and celebrated as a gifted musician in his two bands HYPOCRISY and PAIN. With last-named band that was founded by maestro Tägtgren in the mid-90s so that he could indulge in industrial/electro metal apart from HYPOCRISY's traditional death metal, he has already released eight highly acclaimed albums (most recently 2011's "You Only Live Twice") as well as the live DVD "Life Is Overrated" in 2006. Six years later it's about time to capture the Swedish quartet's unbroken concentrated live power in an audiovisual format again. You can look forward to "We Come In Peace" – the craziest DVD/Blu-Ray of the year!
The bulging DVD+2CD-Digipak bundle resp. Blu-Ray+2CD-Digipak bundle doesn't only contain a recording of last year's entire show at Debaser Medis in Stockholm/Sweden as well as some captured sequences of this year's festival performance at Masters of Rock 2012, but also video clips and tons of crazy backstage and behind the scenes impressions. If anyone ever doubted that PAIN ranks among the most entertaining bands within the metal universe – both on and off stage – this amazing multimedia experience will proof all sceptics wrong once and for all. On that note: Beam us up, Peter!
Download's Info
Country: Sweden
Genre(s): Industrial Metal
Format: MKV
Quality: BDRIP H.264
Video: MPEG-4 AVC, 1280×720, 16:9, 24.000 fps, 6000 Kbps
Audio: AC3 2.0, 48 kHz, 448 Kbps, 16-bit
Audio 2: LPCM 2.0, 48 kHz, 1536 Kbps, 16-bit
Size: 9.56 GB
File Compressor: RAR 5% Recovery Record
Band's Info: Pain Facebook
Pain's Show Traclist

Live @ DEBASER Stockholm
(incl. documentary / behind the scenes footage)
01. Let Me Out
02. Dancing With The Dead
03. End Of The Line
04. Zombie Slam
05. Psalms Of Extinction
06. Suicide Machine
07. Nailed To The Ground
08. It's Only Them
09. The Great Pretender
10. I'm Going In
11. Monkey Business
12. Have A Drink On Me
13. Supersonic Bitch
14. Same Old Song
15. Shut Your Mouth
Live @ Masters Of Rock 2012
01. Crashed
02. Walking On Glass
03. I'm Going In
04. Monkey Business
05. Dirty Woman
06. Don't Care
07. Feed The Demons
08. Dark Fields Of Pain
09. Eleanor Rigby
10. Stay Away
11. Bitch
12. The Great Pretender
13. Same Old Song
14. On And On
15. Shut Your Mouth (feat. Rob Dukes)
Video Clips:
– Dirty Woman
– The Great Pretender
– Have A Drink On Me
– Monkey Business
– Follow Me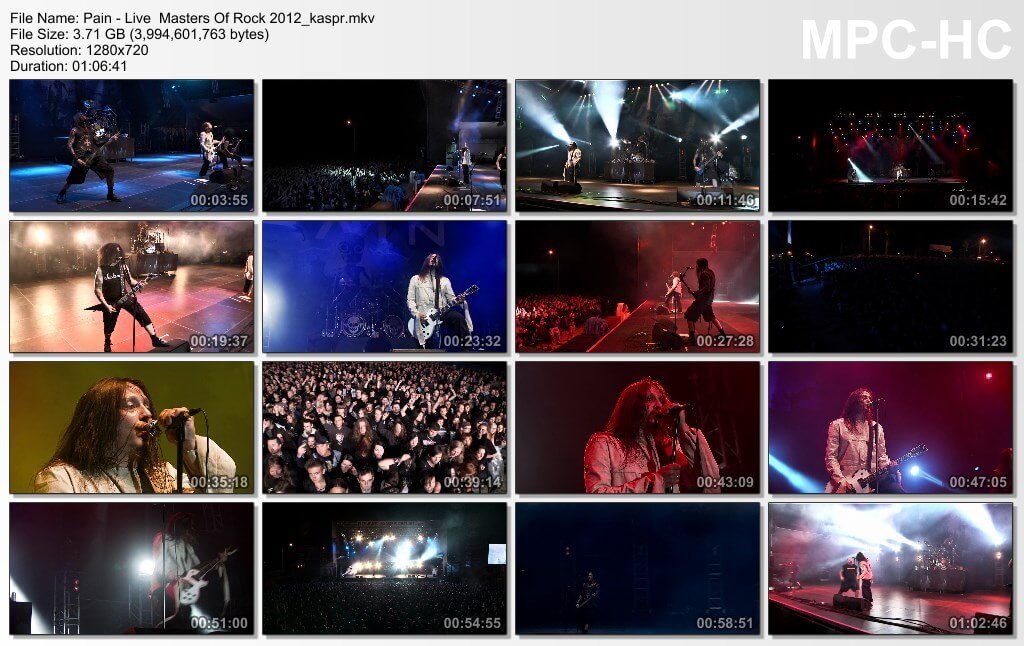 DOWNLOAD HERE:
Password: www.metalminos.net
Maybe you want to download Lacuna Coil 119 Show