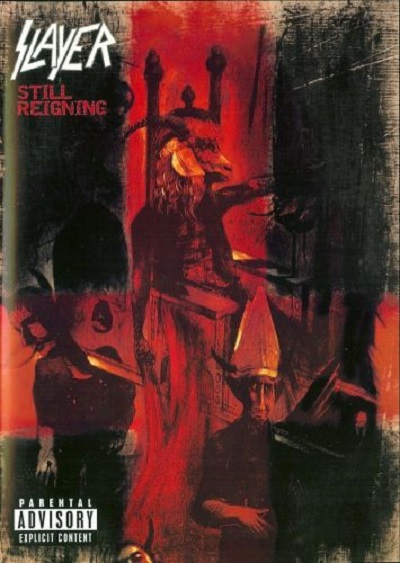 Welcome to our site, you're arrive here cause you search for Slayer – Still Reigning DVD5 get it for free on good servers like, Fireload (Mega alternative), dddownload and Rapidgator.
DOWNLOAD Slayer – Still Reigning DVD5 (2004) FIRELOAD
ABOUT
Fan review: I've been a Slayer fan for years and I was fortunate enough to see them this summmer not knowing that they would be performing "Reign in Blood" in its entirety. I was blown away by how tight the band sounded live. Most notably Kerry King and his blistering leads and Dave Lombardo's double bass. The only reason I don't give the DVD 5 stars is that there is just not enough. You get Reign in Blood from start to finish which would be worth the price of the DVD alone. You also get 6 bonus tracks. My only complaint is that there should have been more. There's no "Hell Awaits", no "Chemical Warfare", no "Die by the Sword". Most impressive is that for 20+ years Slayer has continued to produce quality speed/thrash albums without ever "selling Out". Compare them to Metallica who have sold their souls and spewed out watered down dog crap ever since Injustice for all. Do you ever think you'll see Metallica doing "Master of Puppets" in its entirety? Don't hold your breath. I just hope that Slayer is properly rewarded in hell for their musical brilliance.
Download's Info
Country: United States
Genre(s): Thrash Metal
Format: .VOB
Quality: DVD9
Video: MPEG2, Variable 5995 Kbps, 720×480, 4:3, 29.970 fps, NTSC
Audio 1: AC3, Constant, 192 Kbps, 48.0 KHz, 16 bits, 2 channels
Audio 2: AC3, Constant, 448 Kbps, 48.0 KHz, 16 bits, 6 channels
Size: 4.23 GB
File Compressor: RAR
Band's Info: Slayer on Twitter
Still Reigning DVD TracKlist
Reign In Blood Live
1. Angel Of Death
2. Piece By Piece
3. Necrophobic
4. Altar Of Sacrifice
5. Jesus Saves
6. Criminally Insane
7. Reborn
8. Epidemic
9. Postmortem
10. Raining Blood
Bonus Material
11. War Ensemble
12. Hollow Point
13. Necrophiliac
14. Mandatory Suicide
15. Spill The Blood
16. South Of Heaven
Screenshots:
DOWNLOAD HERE:
OTHER MIRRORS:
Password for the DVD: metalminos.net
You Might like also Iron Maiden – En Vivo! DVD9