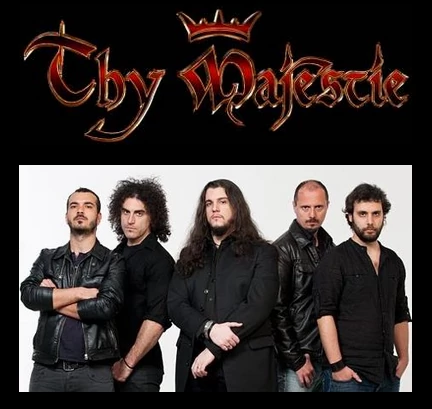 Welcome to the site, you've arrive to metalminos cause you want to download Thy Majestie Discography, bookmark the page for more content
DOWNLOAD Thy Majestie Discography 320kbps (1996 – 2019) MEGA
About
Thy Majestie is an Italian power metal band that formed in 1999. Their music is typically cinematic, epic, symphonic, progressive and darker than typical power metal with symphonic influences.They have released five full-length albums.
The band was started by Giuseppe Bondì and Claudio Diprima with the desire to create their own music after playing in a cover band. Maurizio Malta, Giovanni Santini, Dario D'Alessandro and Dario Grillo joined them to form Thy Majestie. After releasing Sword, Crown and Shields, a 3-track demo, Thy Majestie composed new material which was recorded in March 1999 titled Perpetual Glory. It was highly praised by Italian metal magazines and they were able to sign a contract with Scarlet Records. In March 2000 they began working on their debut album The Lasting Power which was finished in April 2000.
On September 2001 LIMB Music (who produced Rhapsody of Fire) took notice of Thy Majestie but could not sign a deal with them because they were already signed to Scarlet Music to record two albums. In January 2002 Thy Majestie was contacted by Thomas Youngblood to support him on his European tour with his band Kamelot but they could not afford travel expenses and had to record another album 2 months later.
Download's Info
Country: Italy
Genre(s): Symphonic Power Metal
Format: MP3
Bitrate: 320kbps
Size: 734 MB
File Compressor: RAR
Band's Info: Thy Majestie's Facebook
Thy Majestie's RELEASES
1999 – Perpetual Glory (Demo) – 192Kbps
01. Thy Majestie Theme/The Green Lands [00:02:51]
02. Sword of Justice [00:07:40]
04. Under Siege [00:07:47]
05. Durnovaria [00:01:17]
06. Mystery of Forest [00:06:45]
07. Treachery [00:05:13]
09. Nymph's recall [00:01:08]
10. Time To Battle [00:06:54]
2000 – The Lasting Power
01. Thy Majestie Theme [00:01:47]
02. Wings Of Wind [00:04:41]
03. March Of The Damned [00:01:58]
04. Under Siege [00:08:06]
05. Name Of Tragedy [00:01:22]
06. Durnovaria [00:01:33]
07. …At The Village [00:00:49]
08. Mystery Of Forest [00:06:52]
09. Cruenta Pugna [00:02:34]
10. The Green Lands [00:01:18]
11. Sword Of Justice [00:07:14]
12. Tears Of Sorrow [00:02:26]
13. Treachery [00:05:22]
14. Nymph's Recall [00:01:04]
15. Time To Battle [00:07:34]
2002 – Hastings 1066
01. Rerum Memoria [00:03:00]
02. The King And The Warrior [00:03:26]
03. Suite N.1 [00:00:45]
04. Echoes Of War [00:05:56]
05. The Sight Of Telham Hill [00:05:52]
06. Incipit Bellum [00:01:46]
07. Suite N.2 [00:01:15]
08. The Scream Of Taillefer [00:07:30]
09. Suite N.3 [00:01:05]
10. Anger Of Fate [00:07:12]
11. Suite N.4 [00:00:47]
12. The Pride Of A Housecarl [00:07:20]
13. Through The Bridge Of Spears [00:03:48]
14. Demons On The Crown [00:05:51]
15. In God We Trust [00:03:39]
2003 – Echoes Of War [EP]
pic01.Echoes Of War [00:06:39]
02.In God We Trust (Cover) [00:03:39]
03.Hywelbane [00:01:01]
04.Facing The Beast [00:05:26]
2005 – Thy Majestie Jeanne D'Arc
01. Revelations [00:02:07]
02. Maiden Of Steel [00:04:45]
03. The Chosen [00:06:03]
04. Ride To Chinon [00:04:30]
05. … For The Orleans [00:08:00]
06. Up To The Battle [00:05:21]
07. March Of The Brave [00:01:04]
08. The Rise Of A King [00:06:29]
09. Seige Of Paris [00:06:22]
10. Time To Die [00:04:48]
11. Inquisition [00:01:36]
11. The Trial [00:09:08]
2008 – Dawn
01. As You Fall [00:05:20]
02. M.A.D. [00:06:21]
03. Dawn [00:02:33]
04. The Hunt [00:05:42]
05. Of Pain And Disgrace [00:02:04]
06. To An Endless Devotion [00:05:08]
07. Inferis Armata [00:01:55]
08. Two Minutes Hate [00:04:02]
09. The Legacy [00:02:21]
10. Out The Edge [00:04:09]
11. Day Of The Changes [00:05:28]
12. Through Heat And Fire [00:06:44]
2012 – ShiHuangDi
01. Zhongguo [00:02:15]
02. Seven Reigns [00:04:36]
03. Harbinger Of New Dawn [00:04:09]
04. Siblings Of Tian [00:05:02]
05. Walls Of The Emperor [00:05:29]
06. Under The Same Sky [00:05:56]
07. Farewell [00:06:26]
08. Huanghun [00:01:52]
09. Ephemeral [00:06:25]
10. End Of The Day [00:04:44]
11. Requiem [00:03:09]
[embedyt]https://www.youtube.com/watch?v=Gk6lGwy_8Tg[/embedyt]

DOWNLOAD HERE:
Password for Thy Majestie Discography: www.metalminos.net
Hey, dont leave yet, you Might Like Also: At Vance albums mp3