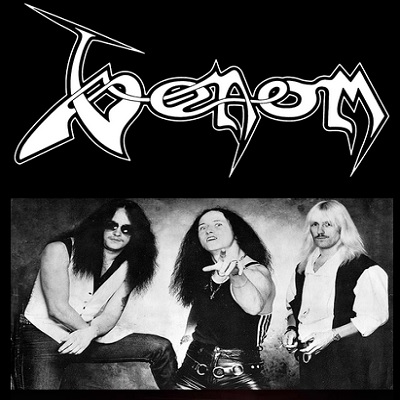 Hello, welcome to MetalMinos, Get Venom Discography Download MP3 320 kbps on free servers like mega.nz and ddownload. Also we provide Rapidgator links.
Venom Discography Download MP3 320 kbps (1980 – 2018) MEGA
About
Venom is a British heavy metal band formed in 1979. They are considered pioneers of the black metal genre. The original lineup consisted of Conrad "Cronos" Lant on vocals and bass, Jeffrey "Mantas" Dunn on guitar, and Anthony "Abaddon" Bray on drums. Venom gained notoriety for their aggressive sound, Satanic imagery, and controversial lyrics. Their debut album, "Welcome to Hell" (1981), and its follow-up, "Black Metal" (1982), had a significant impact on the extreme metal scene. These albums showcased Venom's raw and dark sound, influencing countless bands that followed.

Throughout their career, Venom released numerous albums, including "At War with Satan" (1984), "Possessed" (1985), and "Prime Evil" (1989). They underwent several lineup changes but remained active, consistently delivering intense and menacing music. Over the years, Venom's influence continued to grow, extending beyond the realm of metal. Their impact can be seen in various subgenres, such as thrash metal, death metal, and black metal. Despite periods of inactivity and internal conflicts, Venom has maintained a dedicated fan base worldwide. Their legacy as one of the most influential and controversial bands in metal history remains intact.
Download's Info
Country: United Kingdom
Genre(s): NWOBHM/Heavy Metal, Speed/Black Metal
Format: MP3
Bitrate: 320 kbps
Length: 74:04:35
Size: 10 GB (Gigabytes)
File Compressor: RAR
Band's Info: Venom's Facebook
Venom's RELEASES
Studio Albums
1981 – Welcome To Hell 00:39:02 320kbps
1982 – Black Metal 00:39:51 320kbps
1984 – At War With Satan 00:45:32 320kbps
1985 – Possessed 00:42:38 320kbps
1987 – Calm Before The Storm 00:36:13 320kbps
1988 – Prime Evil 00:39:45 320kbps
1991 – Temples Of Ice 00:40:26 320kbps
1992 – The Waste Lands 00:41:34 320kbps
1997 – Cast In Stone 2CD 01:26:00 320kbps
2000 – Resurrection 00:55:23 320kbps
2006 – Metal Black [Limited Edition] 00:57:22 320kbps
2008 – Hell 01:03:57 320kbps
2011 – Fallen Angels [Limited Edition] 01:06:59 320kbps
2015 – From The Very Depths 00:51:50 320kbps
2018 – Storm the Gates 00:53:10 320kbps
Demo, Singles & EP
1980 – Demon [Demo] 00:11:26 160kbps
1982 – Belgian Assault 00:25:58 257 – 264 kbps[VBR]
1983 – Die Hard 00:05:35 320kbps
1983 – Warhead 00:14:23 320kbps
1984 – Canadian Assault 00:23:50 204 – 260kbps[VBR]
1984 – Manitou 00:11:27 320kbps
1985 – American Assault 00:23:17 320kbps
1985 – Hell At Hammersmith 00:12:29 320kbps
1985 – Italian Assault 00:20:40 190-235 kbps [VBR]
1985 – Newcastle Assault 00:17:01 128kbps
1986 – French Assault 00:20:06 174-272 kbps [VBR]
1986 – Scandinavian Assault 00:19:30 189 – 230kbps [VBR]
1987 – German Assault 00:23:14 166 – 223kbps [VBR]
1987 – Japanese Assault 00:49:17 320kbps
1991 – …Tear Your Soul Apart 00:18:40 320kbps
1996 – Venom '96 00:17:56 192kbps
2011 – Hammerhead | Hail Satanas 00:09:35 234 – 235 kbps [VBR]
2017 – 100 Miles To Hell* 00:11:22 320kbps
Remastered Edition
1981 – Welcome To Hell | UK | 2002 | Remastered Edition | 01:17:05 320kbps
1982 – Black Metal | 1992? | EU | Remastered, Re – Issue | 01:05:31 320kbps
1982 – Black Metal | 2009 | UK | Deluxe Remastered Expanded Edition | CD + DVD | 02:22:39 320kbps
1984 – At War With Satan | UK | 2002 | Remastered Edition | 01:08:36 320kbps
1985 – Possessed | UK | 2002 | Remastered Edition | 01:11:14 320kbps
1997 – Cast In Stone | 2006 | EU | Remastered Expanded Edition | 2CD 01:43:39 320kbps
Vinyl LP
1981 – Welcome To Hell 00:39:48 320kbps
1981 – Welcome To Hell | 2016 | UK | Gold Vinyl | Remastered | 01:18:27 320kbps
1982 – Black Metal 00:42:25 320kbps
1982 – Black Metal | 2016 | UK | Gold Vinyl | Remastered | 01:06:05 320kbps
1984 – At War With Satan 00:39:47 320kbps
1985 – From Hell To The Unknown 01:18:01 320kbps
1985 – Possessed 00:42:36 320kbps
1986 – Eine Kleine Nachtmusik 01:10:21 320kbps
1987 – Calm Before The Storm 00:36:02 320kbps
1989 – Prime Evil 00:36:26 320kbps
1991 – Temples Of Ice 00:40:15 320kbps
1992 – The Waste Lands 00:41:19 320kbps
1997 – Cast In Stone 2LP 01:25:53 320kbps
2000 – Resurrection 00:55:09 320kbps
Live & Compilation
1985 – Official Bootleg 00:56:32 320kbps
1986 – The Singles 80 – 86 00:40:43 320kbps
1986 – Eine Kleine Nachtmusik | 2002 | UK | Re – Issue | 01:11:31 320kbps
1990 – 7 Gates Of Hell | Live '90 | The Second Coming 02:42:05 320kbps
1990 [2002] – Bitten 00:28:41 320kbps
1991 – Acid Queen 00:28:22 160kbps
1993 – In Memorium : The Best Of Venom 01:04:52 256kbps
1993 – Leave Me In Hell 00:"55:09 293kbps
1993 – Old, New, Borrowed And Blue 00:58:24 320kbps
1996 – Black Reign 01:13:09 320kbps
1996 – The Second Coming 00:53:01 320kbps
1996 – The Second Coming [DVD Version] 00:51:58 320kbps
1997 – From The Heaven To The Unknown 2CD 02:04:54 192kbps
1999 – Buried Alive 2CD 01:32:45 320kbps
2002 – In League With Satan : The Anthology 2CD 02:07:36 320kbps
2002 – Kissing The Beast 2CD 01:52:017 320kbps
2002 – Lay Down Your Soul 00:39:47 320kbps
2002 – Skeletons In The Closet 01:12:42 320kbps
2003 – The Seven Gates Of Hell : Singles 1980 – 1985 01:09:48 192kbps
2003 – Witching Hour 00:37:03 320kbps
2004 – Live In London 1985 00:58:01 320kbps
2005 – Hell At Hammersmith [Live In London '85] 00:58:01 320kbps
2005 – MMV 4CD 04:32:46 320kbps
2014 – Live '90 00:56:13 320kbps
2017 – Assault! 6CD 02:25:56 320kbps
2017 – Live From The Hammersmith Odeon Theatre [Limited Digipack Edition] 00:55:53 320kbps

DOWNLOAD HERE:
OTHER MIRRORS
Password for Venom Discography: metalminos.net
Hey, dont leave yet, you Might Like Also: Slayer Discography mp3